Hi my name is Yaya. I am a hot bbw that really loves to have fun. I am as real as they come. I love to get to know you as well as a good quickie. I am a type of bbw that loves her curves and know that you should worship my curves and full sexyness. I am willing to watch you as you play with your cock. I am always on for a good for texting and watching. There is nothing more sexier than a man jacking his cock for me. I do non-nude webcam via Skype. I will tease and for the right price *maybe* you will get to see more. I love the sound of a man jacking his cock to me. I know that I am a bbw Goddess, and I need you to know that as well. So you will do what I tell you and play my lil cock games.
******   Phone Sex * Sexting * Watch You on Webcam * Webcam   ******
I enjoy these types of sessions:
Cuckhold, humiliation, age play, BDSM, Guided Masturbation, Domination, Incest, MILF, Anal, blow job, Bukkake, Feminization, panty boy, Fisting, sugar daddy, Submission, Tranny Training, Creampie, Cum Playing.
Into something not listed here then hit me up and tell me what you want and just maybe I'll rock your world!
To enjoy a live session with me you must first purchase a session here.  Once you have made your session selection and purchase I'll be notified and we can do our session.  In your purchase receipt will be instruction and contact info such as my voice#, Text#, Skype ID depending on the session type you have purchased.
Before making your purchase make sure my "status" indicator says I'm available. If you purchase a session when I'm not available it's understood that you are making a purchase for a future session. You will need to email me at bbwyayabunny@gmail.com to schedule your session.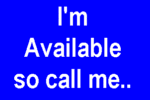 My website is phonesexbunny.com or BBWYayaBunny.com
My twitter id is  @bbwyayabunny  Follow me and get timely notices of special offers and free pictures.
Want to see more of me? Become a client and ask.  I treat my clients well when they treat me well. 🙂
You must log in and be a buyer of this download to submit a review.