My name is Alex: I'm a passionate, sophisticated, sultry woman in my 40's.   I'm ready to hypnotize, entice and bewitch you.
I specialize in hypnosis; erotic, therapeutic, role-play, feminization, addictions.  Experience the ultimate relief and release of handing over your mind, body and spirit to me.    Whether your fantasy is to be feminized, seduced, dominated or just to release stress, once you have enjoyed your first session with me you will be aching to hear my voice again.
Sissies rejoice; I will enrapture you by exposing your true feminine self.  We will bond deeply as women and luxuriate in our sensuality.
And of course for naughty boys and babies who need loving and nurturing, you are always welcome in Momma Alex's arms, comforted against momma's soft breasts.     And Momma Alex has a very strong hand for disciplining naughty boys' bottoms.
Let's begin our sessions today.
My direct# is 866-560-8632
You can schedule a session with me by purchasing a session then emailing me at Sweetmommaalex@yahoo.com to schedule. If you would like to do a session now make sure my status indicator says I am available: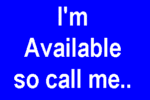 Then make you purchase. If you make a purchase and I am not available it will be considered a purchase for future session. It's your responsibility to email me to schedule your session.
If you want to visit my website go to www.hotmommaalex.com

You must log in and be a buyer of this download to submit a review.