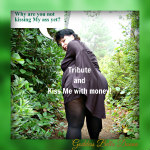 Welcome to Goddess Bella Donna's tribute page.  Understand that there are no services associated with a tribute.  A tribute s defined as: an act, statement, or gift that is intended to show gratitude, respect, or admiration.
There are NO Refunds!
If you want to make a tribute over $250 you must first email Goddess Bella Donna asking for her approval. Be creative in your request.  Email her at goddess@paymepiggy.com.
Reviews
You must log in and be a buyer of this download to submit a review.